Our Profile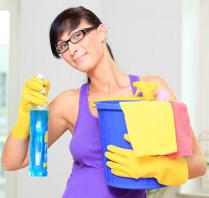 We are local, family operated house cleaning service provider. We provide maid services since 2007 and Romarina Cleaning continues to grow with our satisfied customers. Before Marina started this business, she worked for a few cleaning companies. Then she decided to do the job on her own. Marina started this business with just one customer. And because she is very friendly, responsible and always tries to do the best, Romarina started to grow. Marina makes sure that her cleaning teams work the same way she does. We have lots of pleased customers.
Romarina offers house cleaning services in Twin Cites metro area of Minnesota. This includes South Minneapolis, St. Louis Park, Edina, Mendota Heights, Richfield, Bloomington, Eagan, Eden Prairie, Shakopee, Chaska, Chanhassen, Savage, Prior Lake, Burnsville, Apple Valley, Lakeville, partial Farmington and a few other cities.
What We Deliver
Green Cleaning Products
Most of our cleaning products are "green" or "organic" cleaners. Sometimes we have to balance the use of disinfectants such as bleach with green cleaning products to clean homes efficiently while protecting families and the earth. We know that some customers are allergic to chemicals. Thus, the customer can choose to use only hypoallergenic green products. We educate clients that green cleaners don't have perfect disinfectant qualities. The smart balance of green and non-green cleaners provides the best cleaning for your family, house, pets and environment.
Efficient Use of Resources
Romarina Cleaning is eco-friendly company. We reuse the materials and use it in a smart way. What do we mean? We use washable, reusable cotton and microfiber rags that capture dirt, dust and allergens. The rags are washed in high efficiency washing machines. We work in teams and route clients geographically to reduce fuel use. Our website is powered by wind energy.